Dublin: UEFA gives FAI a helping hand with Aviva Stadium
source: RTE.ie / newstalk.ie / Goal.com; author: michał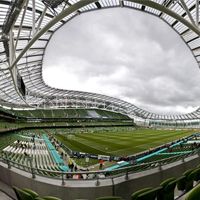 It's not clear how much, but UEFA covered part of the long-term debt Irish football association used to finance Aviva Stadium. Is FAI drowning or just going through a difficult period?
Ireland's new national stadium at Dublin's Lansdowne Road was co-financed by the government (€190 million) and two sport associations – IRFU (rugby) and FAI (football).
The two private entities agreed to cover some €220 million, using long-term debt and hoping to recover the money with naming rights, corporate sales and event organization.
However, as UEFA financial director Jan Koller revealed to Sunday Times, the European body stepped in a few months back (in March) to aid FAI's payments to Danske Bank. "It is a really difficult situation, because of the economic crisis, and we said 'Okay, we can advance certain solidarity payments'," said Koller.
It hasn't been revealed how much does FAI still owe to the bank and how big was UEFA's solidarity payment. It is speculated that some €50 million is still to be covered for Aviva Stadium, which is doing arguable business despite optimistic estimates before opening.