Cardiff: Over 10,000 new seats at City stadium
source: WalesOnline.co.uk; author: michał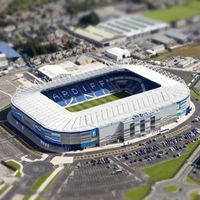 In just over a year we should see the east stand's upper tier ready, giving extra 5,000 seats at the new stadium. Then similar additions are to be done both north and south, increasing capacity overall to some 38,000.
Just as announced earlier in April, Cardiff City FC are preparing to expand their stadium as they await debut in the Premier League. Currently holding 26,828 people, the stadium will grow first time by the beginning of the 2014/15 season.
In September or October this year the east stand (Ninian Stand) will lose its roof and see new upper tier installed within May-August 2014, raising overall size to roughly 32,000.
Once these seats are added, similar operations will be carried out at both end zones, the Grange and Canton Stands. Northern Grange Stand will gain some 2,500 seats, while the southern one – 3,000. Final size of the stadium should be around 38,000.