Bristol: City to be the first club introducing 'safe standing'?
source: StadiumDB.com / FSf.org.uk; author: michał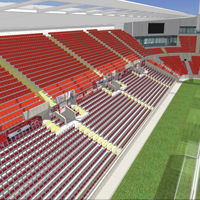 As part of their current stadium's redevelopment, Bristol City plan to establish significant standing sections with so called 'rail seating'. If the plans are approved and the proposed timetable met, rail seats could be installed by August 2015.
As part of the announced open consultations, Bristol City presented their approach on safe standing at Ashton Gate. The stadium is hoped to be redeveloped, should the vision of a new ground at Ashton Vale not go ahead.
As part of the revamp two stands (Dolman and Wedlock or East and South) are to receive lower tier areas of rail seating. This means that these sections could be used as both standing and seating areas, depending on occasion. When in all-seater mode, the stadium could hold over 26,000 people. With people standing in the lower tiers, capacity would grow to some 29,000.
The lower tier sections have a different profile than the ones above them, not to impede sightlines of other (seated) spectators when people are standing.
The Football Supporters Federation, who brought this to our attention, also emphasise that current legislation in England is hardly logical. The same stadium used for rugby can have standing room, while for upper league football it has to be an all-seater. And again – in current league of Bristol City (3rd tier) terracing is allowed, but not in newly redeveloped areas. This means the stadium could hold people standing if the standing area was designed and introduced in the past, but cannot do the same now.