Bristol: City asking everyone for feedback on new Ashton Gate
source: Heart.co.uk; author: michał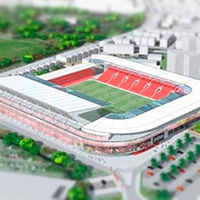 While waiting for final outcome of their new stadium plans, the club aren't wasting time and run open consultations on their only alternative – Ashton Gate redevelopment. Heart.co.uk report.
The plans will be on display at Ashton Gate on Tuesday and Wednesday. The redeveloped stadium would grow by roughly 5,000 seats and be used by Bristol City FC and Bristol Rugby Club.
Plans for the stadium's revamp run alongside another proposal to build a new ground at nearby Ashton Vale which is still to get the go ahead. That vision dates back to 2010, but remains deadlocked after a series of appeals not to build a sports stadium at the Vale.
Bristol Sport Ltd, which runs both Bristol City FC and Bristol Rugby Club said it would give them the opportunity to select the most viable option. Ashton Gate development director Guy Price said:
'Since the announcement earlier this year, we have consulted widely with our supporters, many interested parties and our neighbours.
'We are now ready to present the proposals to the public and I encourage everybody to use this opportunity to give us your comments and feedback.'