Brazil: Check out the Confederations Cup stadia
source: StadiumDB.com; author: StadiumDB.com team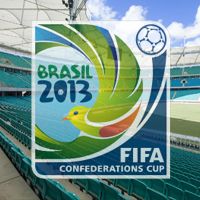 The opening game is under way, so it's about time to check the host venues of 2013 Confederations Cup. Three of them are brand new, three largely revamped from how they used to look. Brazilians did well to build them. Wait, did they?
If this is how the dress rehearsal looks, there are quite some grounds for concerns. Not really about the stadiums and related infrastructure still having work to be done. That was to be expected and is in fact almost a ritual during each large FIFA or UEFA event.
Tourists should easily bear some traffic, but once they see the heavy-handed policing of protesters, they might lose the festive mood. Brazil may have managed to build their impressive stadia, but the price to pay proved a controversial one.
A few years ago former sports minister declared stadiums will be built mostly with private funding. Now it turns out that private entities indeed take over the arenas, but only after local and federal government pay for construction. And they pay a lot more than initially estimated.
In a country, where many people still live without proper sewage (despite immense development overall), this kind of spending may cause tensions. Just like the ticket prices, which find many Brazilians excluded from the tournaments, both tonight and next year. They've been protesting in the streets several times now, making the Confederations Cup start with the smell of tire smoke…
But, leaving the intense situation aside for a moment, below you may see the 6 host venues of June's tournament, each of them linked to its presentation in our website.