Bilbao: Final farewell to San Mamés today
source: athletic-club.net; author: michał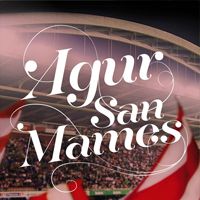 Prestigious friendly game between Athletic Bilbao and Basque Country national team will mark the end of nearly a century of football at San Mamés tonight. The slogan "Agur San Mames" has been around for a while, though.
Today at 20:30 local time Athletic Club will stand against Basque Country national side in the very last clash to be held at one of Europe's most distinctive stadiums. The club advertises this game with the slogan "Agur San Mames" (agur means goodbye in Basque) on commemorative posters given to the public.
Earlier, in late May, the 'Cathedral' saw its last league game, which didn't end the way Athletic fans had preferred – their side lost to Levante.
The Bilbao stadium was opened in August 1913, which means it won't formally live a whole century, since demolition is due to begin in June. However, the club has been celebrating the centenary year for a few months now.
The centenary and 'agur' have been utilized on numerous occasions by fans in recent weeks (or even months) in photos and video clips with their private goodbye messages. Also, Spanish journalists marked this historical farewell properly, devoting major articles to the stadium, even in national media.
Starting from Primera División 2013/14 season Athletic will hold their games at 70% finished new San Mamés, while the remaining 30% will be built only after the old ground is removed, as it will be built on the very same spot.