Barcelona: "New Camp Nou in 2020"
source: Sport.es / własne; author: michał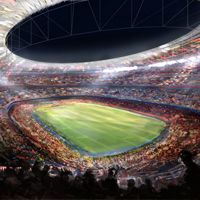 Before yesterday's season sum-up, FC Barcelona president Sandro Rosell informed about his plans for the future of Camp Nou. He wants fans to decide whether to build a new stadium or refurbish existing one. Then work should be carried out and see the plan done in 2020.
Sandro Rosell informed yesterday that he hopes to resolve the issue of Barca's future stadium. After scrapping previous refurbishment plans, the club will now give the choice between revamping current Camp Nou and building anew in a different location. Socios of Blaugrana are to vote in the first quarter of 2014.
Whatever the outcome, the project should be done in 2020, which should mean groundbreaking in 2017 at the latest.
The president assured he wants to retain the current stadium's atmosphere, be it in a new stadium or the existing one. However, new facilities are hoped to improve the matchday experience, currently having its flaws.
Also, match-going habits of Barca fans are desired to change. Currently many fans buy season ticket only to grab their spots for top games, while not intending to attend other fixtures. This results in numerous empty seats, seeing Barca's average crowds at just over 71,000 per game, while season ticket sales are constantly above 80,000.