Vilnius: Construction of national stadium to restart one more time
source: ZW.lt; author: michał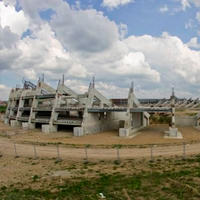 This is surely one of the longest lasting projects. With groundbreaking back in 1987 the national stadium of Lithuania is still not even half way done. Now ministry of interior plan to get it up and running by 2016.
The new national stadium for Lithuania is expected to be ready by 2016, said Minister of Interior Dailis Alfonsas Barakauskas. According to his office's estimates the cost will be around LTL 260 million (€78m / $101m).
When done in 2016, the stadium will be shared by Ministry of Interior and the Vilnius municipality.
Funding will come primarily from European Union funds. In order not to impede any other strategic projects, the stadium will be financed from more than one EU programme, allowing for more proportional division of funds.
At this point we don't have precise information about construction tender, which should be announced soon in order to stay within the projected deadline. Especially with wild vegetation overrunning the place.
There is also no specific data as to how much of the original design is to be used. The concept of a very modern venue was drawn back in 1985 and certainly requires updates, but StadiumDB.com understands the reinforced concrete structure that is in place is in a state allowing to use it for the stadium despite time passage.
Construction initially began in 1987, but was abandoned after a few years, with stands barely leaving the ground level. Then in 2007 an attempt was done to finish the stadium, but funding ran out after just a year.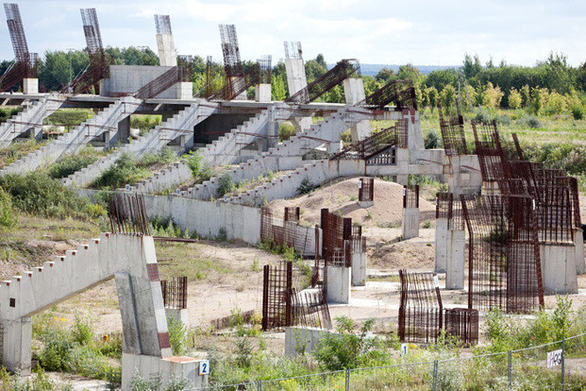 The abandoned site in 2012. Photo: Karolio Kavolėlio, Alfa.lt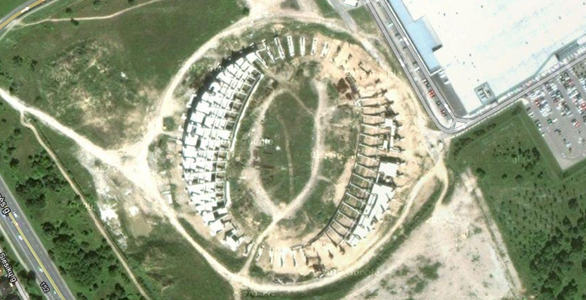 The site in 2012. Photo: Google Maps