Sydney: Olympic Stadium's future uncertain?
source: DailyTelegraph.com.au; author: michał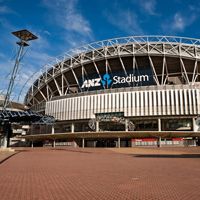 ANZ, current naming rights owner and operator of Sydney's largest stadium, threatens to cut their lease of the ground short if government refuses to renovate ANZ Stadium in time, Daily Telegraph reports.
It used to be the showcase of 2000 Olympics and largest stadium in Australia, housing temporarily 110,000 people, but now ANZ Stadium's shine is somewhat pale. ANZ Bank, holding lease of the venue until 2031, fears it will become severely outdated in just a few years.
Though the ground is now returning profits of AU$ 10-30 million per year (€8-23m) and 2013 is expected to be best so far, revenue stream may start begin falling if no investment is made. And if so, ANZ aren't willing to stay there until 2031.
They estimate a retractable roof and mobile stands behind goals will, among other alterations, provide decent infrastructure until 2031. But the government isn't willing to pay for it, with cost at some AU$ 250-300 million (€195-230m). ANZ also aren't happy to cover this kind of price tag as they don't think the investment may be recovered until 2031.
As an ultimatum to convince authorities to the redevelopment, the bank has offered to resell the stadium to NSW government for AU$ 100 million (€77.6m) and leave it already under public authority, scrapping 18 remaining years. So far the government refused to accept the offer, but ANZ assure they are willing to reconsider the discussed fee.
What will happen to the Olympic Stadium as it enters the final years of its lifespan? It seems the revamp is inevitable for commercial reasons, no matter under whose reign.