Switzerland: Pyrotechnics make you a hooligan even at home
source: 20min.ch; author: michał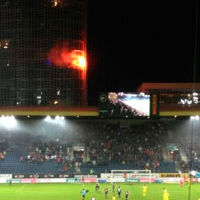 Police claims that lighting flares on a balcony of high-rise apartment building should be treated just like the same incident inside a crowded stadium. So they're investigating who lit pyrotechnics after FC Luzern defeated Young Boys Bern.
The modern swissporarena with its CCTV system is a risky place to light a flare without being noticed. That may be why someone celebrated Saturday's victory over Young Boys Bern with flare set alight on a balcony of nearby high-rise apartment block.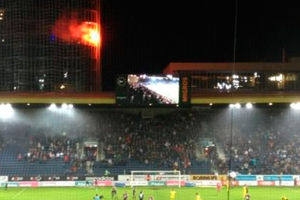 This caused significant interest of fans inside the stadium, but also the police. "These people are just like those brought to justice for flares inside stadiums. It's prohibited everywhere", says Simon Kopp, speaker for Luzern police. Now officers are trying to establish, whether it was the owner or his guests responsible for the incident.
Building's management (EPM) is hardly satisfied with the selected celebration method, too. EPM will now establish whether the flare posed any threat to safety. If so, owner of the apartment may face different consequences, starting written warning and ending with eviction from his flat.