Sarajevo: Seats removed ahead of derby
source: radiosarajevo.ba; author: michał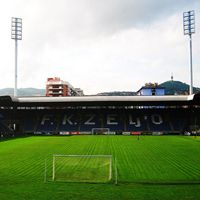 Tonight's clash between Željezničar and FK Sarajevo may turn ugly. Or so think officials who requested to remove seats from away section, according to Radio Sarajevo.
Stadion Grbavica has one modern stand – the northern one. And this is where away supporters of FK Sarajevo will be allocated for tonight's derby.
Their club got 3,000 tickets, but it's hard to say they're sold for specific seats, because all seats in the away section were removed ahead of the game to avoid them being used as missiles or kindling, in case violence erupts.
And tonight it seems tension is higher than during regular derbies. Host team are leading the premier league with 61 points and visitors following their trail with 52. Anything else than a win by FK Sarajevo means Željezničar may begin their championship celebrations.