Rotterdam: Protesters betrayed? The city supports new stadium without looking into both bids
source: Rijnmond.nl / bnr.nl / Goal.com; author: michał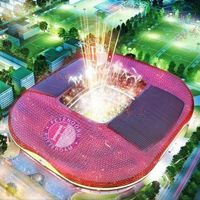 The choice is between building a new arena next to De Kuip (€313 million) and redeveloping the current stadium to a similar standard (€117 million). What will Rotterdam support? Unexpectedly a leaked email revealed mayor and council members in favour of the more expensive solution before even analyzing both bids properly.
In early April Feyenoord submitted their plan to the local council. Arguments for the new 63,000-stadium were listed on almost 200 pages of the club's report. Then in early May the campaigners against new stadium showed the advantages they believe to be associated with redeveloping the 75-year-old De Kuip instead of building anew. This time it was almost 100 pages.
On Tuesday the city council members met with campaigners to listen to their arguments for the first time. After the meeting RTV Rijnmond reported about cautious interest of the councilmen. Ronald Schneider of the council said: "We still need to really look at the details. But if it is true that Feyenoord would have similar revenues as with construction of the new stadium, then this plan certainly deserves our serious attention".
It may deserve attention, but might not have been given the chance. Just one day after the meeting an email leaked about both the mayour and council members supporting the new stadium instead of its opposition. Such a declaration after barely one meeting and without thoroughly investigating both options made the tension around this project even higher than it was before.
Mayour Ahmed Aboutaleb went out to RTV Rijnmond arguing, that the redevelopment of De Kuip doesn't provide the chances that a new stadium brings. Despite being almost three times more expensive and possibly being co-financed from taxpayers money (the city is to give guarantees for half the cost), Aboutaleb sees the new stadium as the impulse for local economy boost and simply as a new icon Rotterdam may receive. He also stated that many grand projects raise controversy like this.