Qatar 2022: Amsterdam ArenA and IMG to consult all venues
source: ameinfo.com; author: michał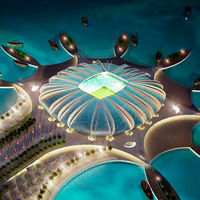 The Qatar 2022 Supreme Committee appointed Amsterdam Arena and IMG as the Stadium Operations Consultants for the 2022 FIFA World Cup Qatar, ameinfo.com reports. The cooperation will provide optimum management for the 2022 venues both during and after FIFA World Cup.
"The appointment of Amsterdam Arena and IMG is crucial in delivering an outstanding 2022 FIFA World Cup. We are thereby placing a key focus on an amazing fan and player experience in all our stadiums," said Hassan Al Thawadi, Secretary General for the Qatar 2022 Supreme Committee.
Stadium Operations Consultants assist on the development of business cases for all of the competition venues of the 2022 FIFA World Cup including, stadiums, stadium precincts and training sites, in alignment with the Qatar 2022 Supreme Committee's goals and the Program Wide Strategy.
The consultants will also work on developing the Program Wide Business Plan relative to stadium operations.
Amsterdam Arena and IMG will perform technical reviews for all competition venues at each individual design stage, assessing operational aspects related to the 2022 FIFA World Cup Qatar, including, catering and commercial strategies; venue operations pre-tournament, during the tournament and post-tournament; safety and security; pitch and building maintenance; access zones; precinct functionality and operations; technology integration; overlay elements analysis confirming tournament functionality and sustainability.