Opinion: Ban caxirolas now, save the World Cup
source: StadiumDB.com; author: michał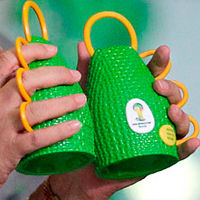 Tomorrow's Copa Bahia final will see caxirolas (official 'instrument' of 2014 World Cup) banned more than a year before the tournament starts. Brazilian sports minister says it's bad news, but we beg to differ!
You may not have heard about this 'invention' yet. Caxirolas are advertised as a regional tune-maked for game atmosphere. It's simply two closed plastic canisters with something inside, theoretically originating from the instrument maracas, but in practise having very little in common. The idea is shown ironically on the below infographic.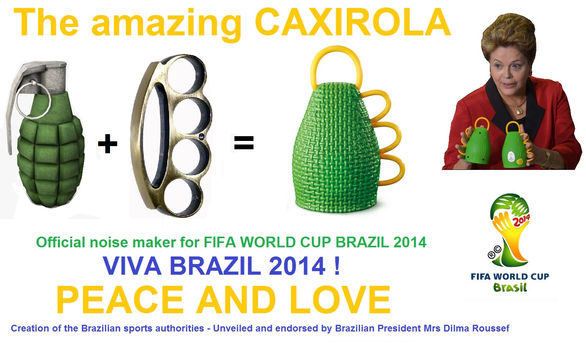 FIFA approved it as the official instrument for 2014 World Cup and will give away some of those during June's Confederations Cup. Sepp Blatter's organisation claims the accessory will create a "unique Brazilian atmosphere in the stadiums".
That's quite funny, because we've been really enjoying the atmosphere of Brazilian stadiums, even if only through the media, for many years now. And still, we cannot recall any moment in history, when some noisy quasi-instrument was a crucial part of this atmosphere. In fact, caxirola stands against what we know as Brazilian atmosphere – loud, vibrant chants, colourful flags and lots, lots of pyrotechnics. Caxirolas make simple, dull and shallow noise, which makes coordination of any forms of actual support really difficult.
Obviously, FIFA wouldn't approve those, but why lie about another of their products just to legitimize it? Obviously the retail price of $8-15 multiplied by some 100,000 (we're actually naïve they won't manage to sell more) may give some answers...
We have to admit, that during exhibit events presenting the caxirola the effect was quite interesting, seen here.
But it's fair to say you never get the same effect at a sold-out stadium, full of unprepared and unorganised people. This proved true during first matchday-testing, when caxirolas only created really loud and annoying hum. Seen here:
Quite like the vuvuzelas of 2010, which resulted in some TV stations actually muting supporter noise to make transmission bearable for viewers.
Thankfully, supporters of more traditional or real support found a use that FIFA didn't really think through. Since the 'instruments' are handy, they turn out a useful missile to storm the pitch with, as illustrated below:
The incidents from late April's fixture at Arena Fonte Nova resulted in police officially banning the caxirola more than a year before 2014 World Cup ahead of tomorrow's final of Copa Bahia.
Despite sports minister's assurance that this is an isolated incident and should not change plans overall, FIFA now claim to be rethinking their idea.
"FIFA and the local organizing committee will analyze the situation and will reconsider the caxirolas as items approved for the Confederations Cup and World Cup, for safety reasons," the official press release reads.