New stadiums: Mönchengladbach, Münster, Mönchengladbach, Rheda
source: StadiumDB.com; author: StadiumDB.com team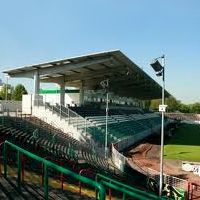 Yes, you saw right, we did mention 'Gladbach twice, because today we add two very charming stadia that lie next to one-another. They used to be big, now they're just charming and have a story to tell. We also added our first female-club-dedicated stadium of the Bundesliga, just a few months old and sponsored by a meat plant. Weird…
Nicknamed after local district club Rhyedter SV, this stadium dates back to 1922 and lies just meters away from Grenzenlandstadion. Almost all rows were created in a sunken bowl – a very cheap and time-efficient way of creating accommodation for fans back in the days. Since 1925 there is also the modest grandstand above western terrace, providing room for players under seated rows.
since its opening the stadium hasn't changed that much. It received floodlight masts and in 1990s a scoreboard from Borussia's previous stadium.
The stands have been said to hold even 40,000 at peak, but currently wouldn't accommodate more than 20,000 people. This of course isn't the case for RSV games, but the stands covered with grass provide a 'picnic-friendly' atmosphere in spring and summer.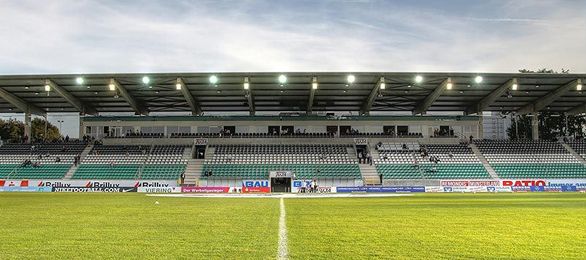 Opened in 1926, this stadium was the first in Germany to have its own railway station (now defunct). And rightly so, as it was able to hold over 40,000 people on the terraced embankments.
Over the years capacity started falling and now stands at 15,050. However, it's not infrastructure or safety, but noise concerns that led to this limit. For games of major importance up to 18,500 people are allowed inside.
In 2008 extensive redevelopment of the stadium began. First new roof was installed over northern sections, which remained standing-only. Then, in 2009 new south stand (main one) was opened – covered and seated, also including press, VIP and business seats. A year after new scoreboard came, in 2011 new floodlights and in 2012 new pitch with under-soil heating.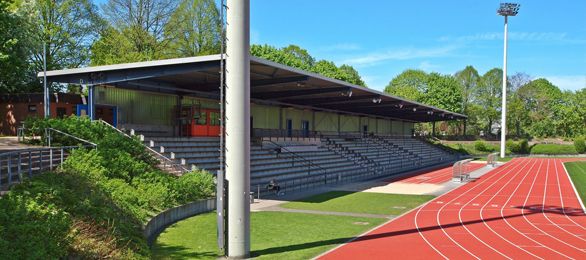 The multi-use stadium in Mönchengladbach is set in a picturesque location and open for the public to use. Exceptions to the policy are sports events, among which games of Borussia's U23 team, held here since 2006.
Official capacity is set at 10,000 people, but this might happen only with sell-out of the terracing surrounding the pitch. Crowds like that aren't seen here, while many spectators prefer the covered west stand, able to hold 2,500 people.
In 2002 the ground hosted the domestic Youth Athletic Championships and until 2005 American football was also played here.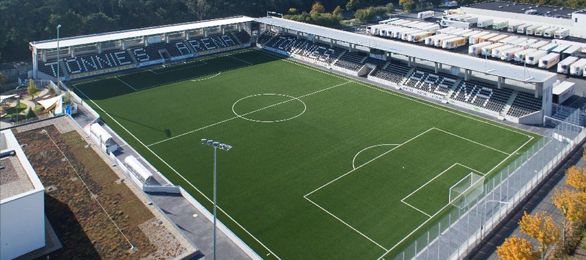 This modest stadium with two stands is one of rather few that were built specifically for female football. Anchor tenants are the Bundesliga side FSV Gütersloh 2009, with further use being provided by youth and reserve teams of RSC Rheda.
Soon after opening in September 2012 also German national team (U17) played their first game here, selling out against Georgia. Later more qualifiers were held. But the opening itself was devoted to rather traditional football by Borussia Dortmund and Schalke, playing a friendly derby.
Audience can gather at two stands with 3,562 seats, both built in just 5 months and worth altogether €5 million. Additionally, if need be, some 400 more people can stand along the railings on two open sides.
Until Spring 2015 meat plant Tönnies holds naming rights.