New stadiums: Chomutov, Liberec, Myjava
source: StadiumDB.com; author: StadiumDB.com team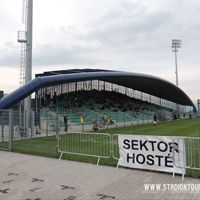 Today we present to you two stadia from the Czech Republic and one from Slovakia, all of which are rather small, but still really interesting. A bit like Slovakia and Czech Republic themselves – small countries, but with great football spirit (and history!).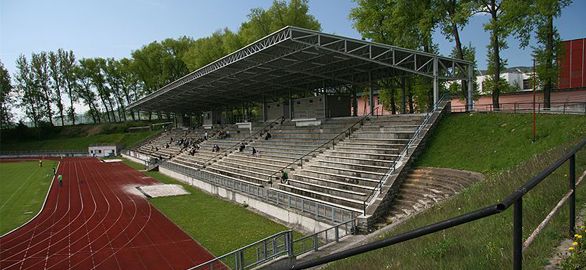 Photo: Stadiontour.at
Located south of the centre of Liberec, this athletic stadium is part of the city's major sports complex. With its 8-lane track it can host even large athletic events, but football games of the top flight aren't held here – their place is northbound, at Slovan's stadium. This secondary venue is used by reserves.
Official capacity stands at a high 7,000 number, however this is mostly due to no individual seats being installed, which would significantly limit the numbers.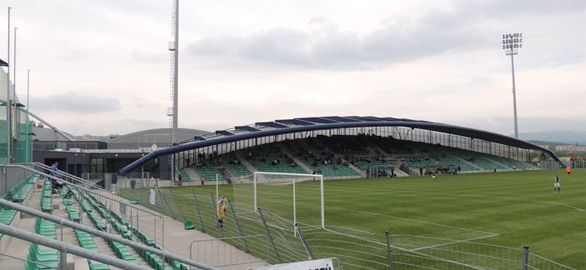 Photo: Stadiontour.at
Construction of the new sports and leisure centre in the place of former barracks in Chomutov began in 2010. Within the complex there are the main football stadium, athletics stadium, hockey hall, natatorium and multiplex cinema.
The stadium itself cost CZK 275 million, of which over 208 million came from EU regional programs. Opening saw Sparta Prague visit for a friendly game in mid-July 2012.
The main stand is distinctive due to its dynamic shape and arch supporting the roof, while three remaining sides provide more simple seating areas, altogether holding 4,800 people.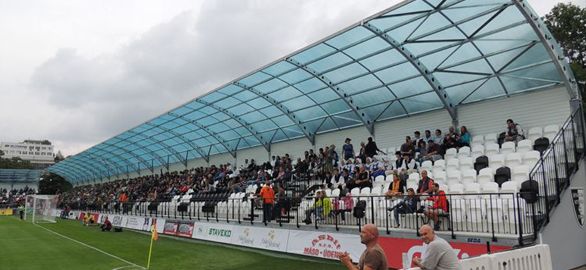 Photo: Stadiontour.at
Established in 1920 as ŠK Myjava, local club received its first stadium in 1931 and a new field in 1954. However, with decreasing role of the team in Czechoslovak football, the stadium also saw minor changes over the next half a century.
It wasn't until 2012 that renamed Spartak was promoted to the top tier of Slovak football for the first time, also requiring a renovation of their stadium. Within three months new steel sections with cover were built with some of the citizens chipping in by acquiring shares worth up to €1,000.
In 2013 the stadium received floodlights for the first time.