New stadium: Itaipava Arena Pernambuco
source: StadiumDB.com; author: StadiumDB.com team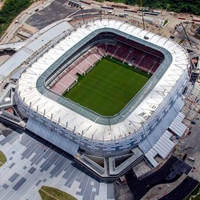 Very last stadium for this year's Confed Cup is ready. Or at least operable and will see its first real football game tomorrow. Surely one of the most interesting venues for both Brazilian tournaments!
First ball kick by president Rousseff and a friendly game by local workers – this was the opening ceremony, held in front of under 15,000 people. More should be expected tomorrow, when actual footballers enter the pitch in a friendly between local Nautico and Portuguese Sporting. The construction process for Arena Pernambuco is almost over.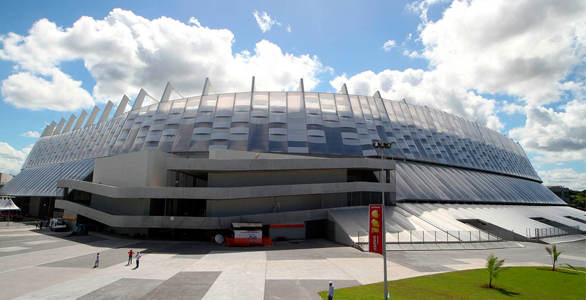 Photo: Glauber Queiroz, Copa2014.gov.br
Works in the outskirts of Recife began in August 2010 and the new stadium, delivered very late, isn't the only outcome of the project. Quite the opposite – football is just the beginning as this place is expected to be transformed into a prosperous district called 'Cidade da Copa' (Cup City). However, the R$ 532 million (€203m / $261m) football venue is the first phase, while other will follow until 2024, covering a massive 240 hectares.
With the budget Recife received a very decent stadium with over 46,000 seats, of which 6,100 are premium seating, with 1,600 in 102 skyboxes. The 2-tiered stands are very compact and steep, allowing for rather modest roof to still cover most viewers from the elements.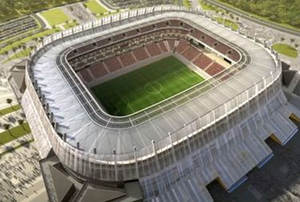 The visual side was carried out by Daniel Fernandes's team, who decided to form an interesting contrast of soft and light EFTE panels on the facades and heavy and sharp concrete ramps in the corners of the venue. As for the inside, red seating is said to be homage to the entire state's largest teams, Nautico, Sport and Santa Cruz, all of which have red in their coat of arms.
Under the cladding and seats are 6 floors of space that may be used for a variety of purposes, with 800 covered parking spots covering some of the area. Outside there are also over 4,700 uncovered parking spaces nearby. The stadium is equipped with systems of effective waste management, rain water collecting and solar power utilisation. All these features are to provide a sustainable legacy.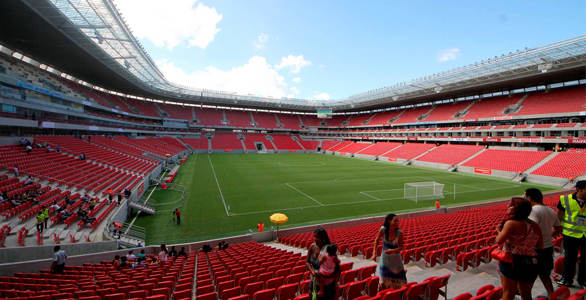 Photo: Glauber Queiroz, Copa2014.gov.br
Week-to-week use is to be provided by Nautico, whose local rivals decided to build a stadium of their own instead of sharing this arena. Overall 70 days of the year are booked for football games, while other occasions include concerts of up to 63,000 people.
In May 2013 a 10-year naming rights deal was signed with Itaipava, Brazilian beer brand. Worth some R$ 100 million, the contract is identical to one signed in Salvador da Bahia and makes Pernambuco's new stadium one of two Itaipava Arenas in Brazil.