New stadium: Estádio Nacional de Brasilia
source: StadiumDB.com; author: StadiumDB.com team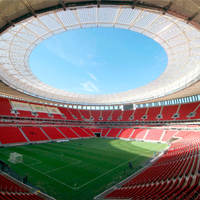 Last stadium formally opened ahead of June's Confederations Cup is finally here. Not through with construction yet, but with first game played the first test has been passed!
Almost traditionally, president Dilma Rousseff kicked the ball first and then came professional players of Brasiliense and Brasilia – names fitting a stadium that is located in Brasilia and is from now Brazilian national venue. The road to get to this point was a long and bumpy one.

Demolition works at the outdated and much smaller Estádio Mané Garrincha (roughly 42,000 capacity) began in May 2010, with construction work on new stands proceeding afterwards.
According to a decision made earlier that year, the official name had the title 'Nacional' added, suggesting this to be Brazil's national stadium. This came with some displeasure of local community, because authorities first intended to drop Garrincha's patronage at all, only later retaining it under the public's pressure.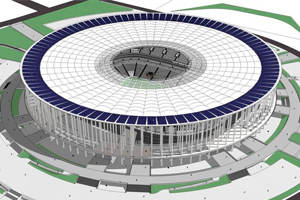 The design work was carried out along German GMP Architekten concept, which utilised the idea of stadium in a circular form, common in Brazil. This time stands alone are rectangular, though, with 71,000 people on two tiers divided by 74 skyboxes. It's the roof and colonnade around stands that hide stands within a large circle. The simple and frugal design is a tribute to Oscar Niemeyer's architecture, a distinctive feature of Brasilia.
Construction had a budget of R$ 1.284 billion (€492m / $633m), almost doubling initial estimates. Not only the cost, but also pace of construction works earned this venue a lot of criticism, with construction work ending just one month before the opening game of 2013 Confederations Cup. Work will now go on with various installations at the stadium, with solar panels to be added last, possibly in June 2013.