New: Cooling design and a small rich stadium from Qatar
source: StadiumDB.com; author: StadiumDB.com team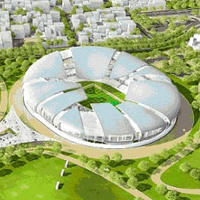 How to cool down 80,000 people in Qatar's summer heat? And without using any electricity at all?! Tangram Gulf presented their ideas, check them out. Also, be sure to take a look at Qatari league champions' new stadium, covered with Ferrari membrane and with a mosque inside. Really something, in both cases!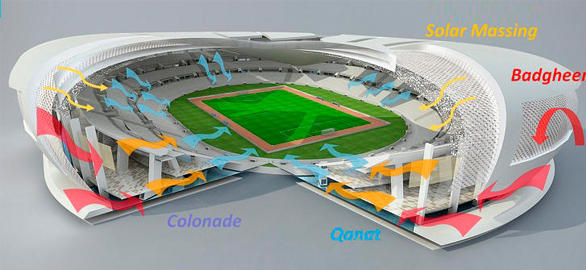 This vision of an 80,000-seater in Qatar is not a concrete plan for any of the 8-10 venues for the tournament. Quite the opposite, this is a showcase model by Tangram Gul that shows passive cooling techniques which may be utilised throughout the venues planned for the 2022 tournament. A lasting legacy of the model is providing solutions to cool sports venues without using a single watt of energy.
First, the cladding is to be highly perforated, assuring airflow. To enhance the flow of air, the widely utilised in Arab architecture badgheer technique is to be used, which – in short – means that walls and doorways layout plays a significant role in the flow of masses of air. To make the flow even better, the Venturi effect is used – a passive technique allowing pressure regulation and faster movement of gasses/liquids.
Then, just like the scales of a desert lizard, the stadium is to prevent too much hot air from getting inside. What does get in, is to be then cooled by a long known Persian technique. Under the stands a shaded pool with cold water is to be located. After entering the stadium, air would be directed down to the pool and then arrive at the stands already cooled.
With these solutions combined, hot air that would get inside through the open roof, is to be pushed out. Covering the roof with photovoltaic panels would also prevent the venue's outer surface from heating up, using the heat to create energy instead.
All the ways mentioned above would, according to Tangram Gulf, ensure temperature inside the stadium below 26-29 degrees maximum level set by FIFA, despite summer temperature outside being over 40 degrees.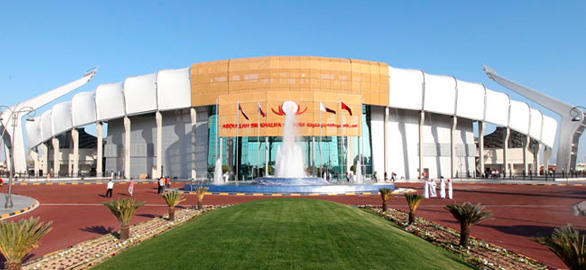 Construction began in 2011 and the 9,000-capacity stadium in northern part of Doha was opened after 17 months, in February 2013. Four independent stands are protected from sun and wind by innovative membrane effectively covering 60% of the maximum crowd. The most distinctive feature, however, are masts standing in the corners and symbolically enclosing the bowl.
Main stand provides supreme facilities for VIP and VVIP guests, boasting a shaded parking, to name one. Other spectators are welcome to use numerous surrounding parking lots, among which four training pitches are placed.
Interestingly, the main stand also has a mosque inside.
Name of the stadium was dedicated to reigning prime minister, sheikh Abdullah bin Khalifa Al Thani.
Foundations are in place to expand the stadium up to 30,000 seats when the fanbase of Lekhwiya grows enough. Before that happens, second phase of the development should see a hotel and indoor hall being built along the stadium.