Montreal: Olympic Stadium at risk of collapsing?
source: sunnewsnetwork.ca; author: michał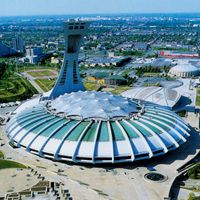 Designer of the famous futuristic venue in Canada appealed to the Premier of Quebec that repair works have been further deteriorating the condition of his structure instead of improving it. In his opinion this poses a "major risk", sunnewsnetwork.ca informs.
Though the letter was received last month, only now message from Roger Taillibert was published. The French architect, whose visionary stadium is under constant criticism, fears that Canadians are making things even worse with repair works.
The Olympic Installations Board is currently renovating part of the stadium structure, drilling holes in concrete to remove steel rods. But Taillibert wrote Premier Pauline Marois to warn that the renovation work is weakening the structure.
In Taillibert's opinion a significant number of 18 segments (out of 37 in total) are in need of strengthening.
Marois and the installations board both refused comment when contacted by QMI Agency.
Since its opening in 1976 the stadium was in need of so many changes (mostly focused on the roof's central part), that the bill so far stands at $1.5 billion.