Madrid: Real to sell naming rights?
source: AS.com / Goal.com; author: michał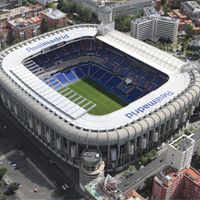 This would require the socios' approval, but isn't impossible. The main aim is to maximize profits and finance the major revamp of Estadio Santiago Bernabéu. So Emirates Santiago Bernabéu, perhaps?
Yesterday Real Madrid presented their new strategic partner, Emirates. The airlines known from Arsenal's new stadium will be the main shirt sponsor for 5 upcoming seasons, replacing Bwin. The deal is thought to be worth some €125 million.
Would Emirates consider getting engaged in the naming of Santiago Bernabéu, too? Real are understood to be analyzing potential naming rights deal ahead of their very costly stadium revamp, supposed to finally start in 2014 after numerous delays.
The works are to include a hotel and shopping centre, among other facilities, added to the west stand. A new cladding throughout the stadium, new roof and at least slight remodeling of the seating layout are also part of the scheme, expected to be no less than €200 million and perhaps even €300 million.
This is why naming rights might relieve the club's overloaded budget, already well into the red despite annual income of €160 million. However, fans holding shares would have to give such a move the green light. Meanwhile, the plan is seen as somewhat controversial with the stadium never being subject to similar deals so far.
The club is understood to insist on the name 'Santiago Bernabéu' being unchangeable in any case.