London: West Ham owner promises safe standing at Olympic Stadium
source: blowingbubblesfanzine.blogspot.co.uk; author: michał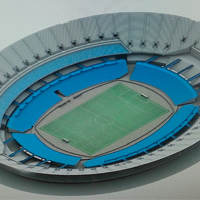 Currently they're illegal, but David Gold is sure about introduction of standing areas soon. He expects his club to provide such sections shortly after moving to the Olympic Stadium.
David Gold now holds over 30% shares in West Ham United and intends to stay with Hammers. Speaking in an interview with Blowing Bubbles magazine, he assured supporters that safe standing is only a matter of time and his club will gladly introduce such sections once they move to the Olympic Stadium in 2016.
He added: "I'd be stunned if we don't have some sort of safe-standing experiment soon.
"I think, in five years, we will see safe standing at football stadiums because, let's face it, it's not very expensive to install and it's safe, very safe. In fact, it's twice or three times safer than what we have at the moment."
Gold claimed that was because many supporters currently defied rules aimed at ensuring they remained seated during matches. The issue of 'persistent standing' raises controversy, however, as fans at Premier League and Championship games are banned from standing for safety reasons, while all remaining leagues don't have similar 'threats' recognised.