Liverpool: The Day when Kop became the past
source: StadiumDB.com; author: michał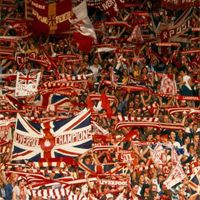 It's arguable whether it was the first Kop ever, but none other ever got so much praise. It was exactly 19 years back, when fans gave their farewell to the world's most famous terrace. Its legend is still alive today, but hardly comparable to pre-1994.
There's been more than one Kop or Spion Kop in the history of football. Quite a lot more, probably over 30. They all bare the name/nickname after 1900's battle of Spion Kop in South Africa.
First references to that naming date back to 1904 (Manor Ground, Arsenal) and 1906, when new terrace was opened at Anfield in Liverpool.
And it was Anfield that first had the name adapted officially, when redesigned terrace was reopened in 1928. Able to hold some 30,000 people at that time, it was the largest single stand in the world, larger than many stadiums. And though over the years slightly larger stands were opened at Villa Park (Holte End) and Molineux (South Bank), it's still the stand from Liverpool that became a legend.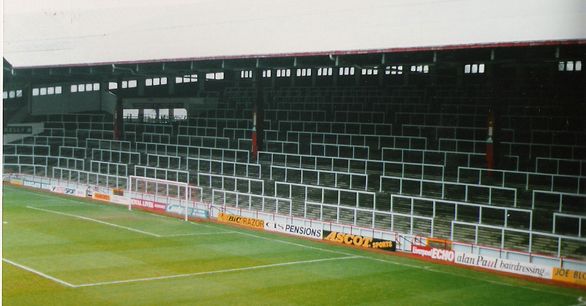 Just a couple of years before demolition, in 1991. Photo: Tracy Woosey
The reason was its vibrant atmosphere, developed over decades, when regular crowd has transformed into a sea of red jerseys, scarves, banners and flags. In the extremely confined space every activity seemed to be transferred from one fan to another, allowing for the entire crowd to rock at times and sing in the kind of unison rarely seen at other stadia.
The Kop wasn't only the heart of matchday atmosphere at Anfield or a point of reference for fans worldwide, but also a spiritual centre of Anfield. This could be particularly experienced, when thousands of Liverpudlians were bringing flowers and club colours to the empty stand after Hillsborough, Liverpool FC's biggest tragedy. This sight, widely exposed in media around the world, contributed to the custom of decorating stadia in moments of mourning more common.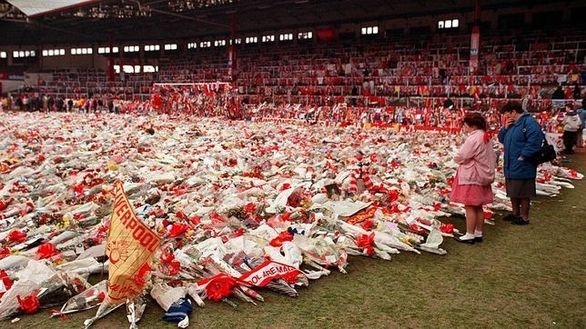 Fans of LFC from this stand, often referred to as Kopites, are the reason for today's article. They made The Kop a place to remember over their 88 years at that terrace and today we mark 19 years since the stand has been closed for reconstruction, filling for the last time for a sentimental farewell you can see below.
In the summer of 1994 reconstruction started, caused by the same tragedy that brought mourners to the Kop. With new safety regulations and the all-seater rule in mind, the stand was reopened still without corporate facilities and with only one tier, but holding much less than before, 12,390 people.
The Kop isn't what it used to be before 1994 nowadays. Official regulations forbid people to stand persistently, though, to our knowledge, vast majority at The Kop openly ignore that rule. They also keep bringing various flags inside Anfield, even if they can only wave them when game is not being played. They still make impressive tifos, sing in unison, but it cannot be argued that much of the spontaneity is now lost.
One signal of the missing spark is Reclaim The Kop, initiative launched officially in 2007 to bring back some of what the stand used to be famous for. But no matter the efforts, today's regulations will never allow the stand to be equally important for fans worldwide as it used to be before May 1, 1994.