Kaiserslautern: Play-off sold out within two days
source: RP-online.de; author: michał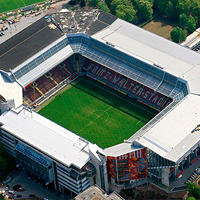 They have a chance to return to the Bundesliga and supporters are there to help them. FC Kaiserslautern didn't even manage to start open sale of tickets as fans grabbed over 40,000 cards in two days. RP-Online.de report.
They still don't know who's coming as the away side, but 1. FC Kaiserslautern is certain to retain their third spot until the last matchday of the season. Therefore the club started selling tickets for the play-off return leg at Betzenberg, planned for May 27.
It turned out the demand for Bundesliga promotion is huge. In just two days of the pre-sale over 40,000 tickets were distributed, preventing the club from hosting any open sale at all. Just a handful of VIP tickets are still available, €200 each.
Of course the away allocation is also available, with just under 5,000 tickets awaiting their buyers. Kaiserslautern's rivals will be known after Bundesliga's last matchday. Fortuna Dusseldorf, FC Augsburg and TSG Hoffenheim are the three teams with a chance/risk of hosting the first leg of the play-off, scheduled for May 23.