Euro 2020: Construction of new national stadium to begin in 2016
source: Zita.be / Standaard.be; author: michał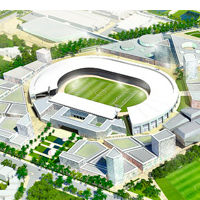 Exact design isn't known so far, but the ground is to be inspired by Amsterdam ArenA and Friends Arena in Solna. Construction will begin in 2016 and not later, because it cannot – this requirement was set by UEFA ahead of Euro 2020, which Brussels hope to host.
Brussels is on course to redevelop the Heysel area completely. The regeneration plan envisages congress and shopping centres, 750 flats, concert hall and significant public green areas.
What it initially didn't foresee is the existing stadium. In first approaches Heysel stadium was to be demolished, but later this approach was scrapped for a thorough redevelopment of the stadium. Now a third option is the most likely one to be done.
Brussels municipality and regional government plan to build a completely new stadium as centrepiece of the district project. The initiative follows UEFA decision to hold Euro 2020 in 13 cities across Europe.
Brussels are eager to be on the list and thus plan to begin construction in 2016 and end in 2019. This time frame is forced by UEFA's expectations, as all bidding stadiums need to be under construction in 2016 and delivered a year ahead of the tournament.
Though we have no solid declarations on how the stadium will look, we know it's supposed to be a multi-functional event arena without an athletics track, which will be recreated at a different stadium in Brussels in order not to lose prestigious annual track and field events.
We may also assume a retractable roof is being considered, as governor Guy Vanhengel had this to say today: "The stadium should count 50,000 seats and is inspired by the Amsterdam ArenA and the Friends Arena of Stockholm, which opened in the summer".
Financing isn't completely clear as of yet, but the scheme surely sounds more reasonable than the vision presented ahead of the 2018 World Cup selection, when Brussels was supposed to have a new 80,000-seater...