England: Oxford United supporters first to win legal protection of their stadium
source: BBC.co.uk; author: michał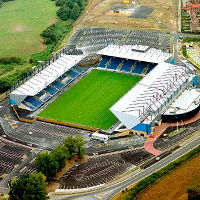 For the first time in history football supporters managed to list their stadium as valuable community asset. This means it cannot be sold to anyone the owner wishes to. Now Liverpool FC and Manchester United wish to follow suit, BBC informs.
English stadia sometimes fall victims of their attractive location in the densely urbanised towns and cities, being among few plots able to hold a large-scale commercial project. That's why supermarket chains are keen to buy them out, while clubs relocate to worse locations. This is only one of many scenarios that may raise concern among supporters.
Now things may change for the better as first ever bid to legally secure a stadium has been approved. Oxford United fans from OxVox association used the Localism Act and suggested that Kassam Stadium should be listed as a community asset, not just another building. Council members voted to support it and the decision will come to force within weeks.
This means the owner, Firoz Kassam, cannot sell the stadium to anyone if fans disagree. Should a valid offer appear, they would have 6 months to construct a counter-bid.
This kind of protection gives them certainty that they will take part in the decision making, a worthy outcome since Kassam is no longer engaged in the club itself and might not work in its best interest.
The success of OxVox is great news for other fan groups across England. As Supporters Direct informed, associations of Manchester United (MU Supporters Trust) and Liverpool FC (Spirit of Shankly) are already working on launching similar bids.