Emirates: Extremely tight project to be done in 2013
source: thenational.ae; author: michał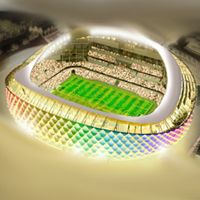 It's expected to house 25,000 people. Not impressive? But it also costs €145 million, roughly twice as much as stadia of this size are built for. And German contractors only had 16 months to build it. They're doing very well and will be done this year.
This is the kind of project you don't see every day. Advanced technologically, with very unusual seating layout and bowl shape. LED façade resembling palm tree pattern and 3,000 luxury seats in a total of 25,000 capacity.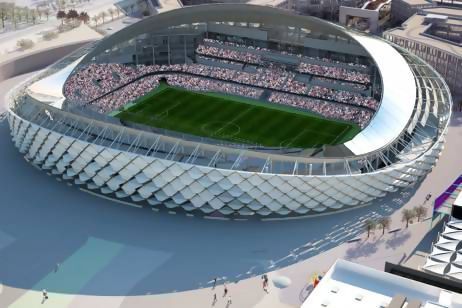 This explains the €145 million ($190m), but additional difficulty is getting it up and running in just 16 months. This tight schedule was accepted by German company BAM, who are currently well into the project, already installing external cladding.
Construction workers are expected to be gone in October, while official opening should take place in December 2013. This is when the project should get its share of publicity, because so far little information have been released.
Yesterday Crown Prince sheikh Mohamed bin Zayed Al Nahyan visited the site. He was pleased with the progress and decided to name the stadium Hazza Bin Zayed Stadium, honouring… his brother, also National Security Advisor, and Deputy Chairman of Abu Dhabi Executive Council.