Budapest: Old Ferencváros stadium almost demolished
source: hir24.hu; author: michał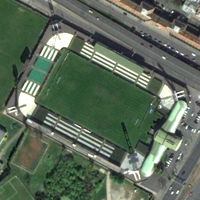 Demolition work is almost done at Albert Flórián Stadion, authorities shown the progress to journalists today. And the new venue will be built partly using the old concrete – a way towards sustainability and supporters' sentiments.
Albert Flórián Stadion was seen as a cult ground by many fans, not only in Budapest or Hungary, it simply was a charming stadium. And first time in years we really need to use past tense, as only the club building on south-eastern end is still standing. All stands are demolished, while foundations for new ones are already sticking out of the ground.
The public investor emphasises that almost all of the old ground will be reused in a way to act cost-effectively, but at the same time preserving what remains of the historical stadium. Floodlight masts and some 50% of the seats (9,500) were donated to other stadiums, mostly in rural areas.
The steel used to reinforce concrete will be melted for further use, while concrete crusher on site assures that the old concrete gets used back in the new stadium's structure. Almost all of the 18,000 tons will be reused, saving massively on transport costs.
Currently works are going along the tight schedule providing opening of the 22,600-seater in Autumn 2014. Not all financing is in place yet, though. Some HUF 5.4 billion is secured, while the remainder of nearly HUF 14 billion budget should be raised by the sale of 30,000 sqm of investment land along Kálmán St. The land was released due to the new stadium being rotated 90 degrees compared to the old one.