Brazil: Human error responsible for Fonte Nova accident
source: CNN.com; author: michał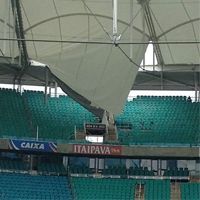 Stadium managing group released a statement in which they blame erroneous installation of the roof membrane for the Monday accident. Repairs are already ongoing and Arena Fonte Nova is to be safe for 2013 Confederations Cup.
Fonte Nova Participacoes, the company managing Itaipava Arena Fonte Nova, announced in a Press release that erroneous installation of the roof membrane caused Monday accident in Salvador da Bahia. The 'human error' factor is not to threat safety during and after 2013 Confederations Cup.
On Monday a severe downpour caused on of 36 membrane elements of the roof to collapse as water wasn't drained properly. In other parts of the cover workers had to use buckets to relieve further overloaded segments.
External edge of the membrane should be flat to allow the liquid to fall onto the steel ring supporting the entire roof. In the problematic sections of the roof it was bent, preventing the water to drop and causing abnormal accumulation.
FNP said repair work was already under way and that the stadium would be ready for its first Confederations Cup match, a Group B tie between Nigeria and Uruguay.