Bilbao: Sad farewell to San Mamés
source: nwzonline.de; author: michał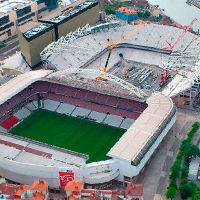 Sunday's last official game at the century-old stadium ended with a 1:0 win of Levante, giving a bitter taste to the farewell fans bid to their beloved 'Cathedral'. 2013/14 season will be played at the new arena.
Yesterday's fixture wasn't the last this season, but last played by Athletic as hosts at San Mamés. With no goals by the home side, Juan Luis Gómez of Levante UD became the last player to score here.Last home game of the season was also the last official fixture ever to be held here.
San Mamés, popularly called 'La Catedral', didn't get to celebrate its centenary in the end, seizing official operation just 3 months short of the jubilee, which would be in August 2013. By then the stadium shouldn't exist any more as a football venue, while work continues to build for a greater future just a few meters north of the stadium.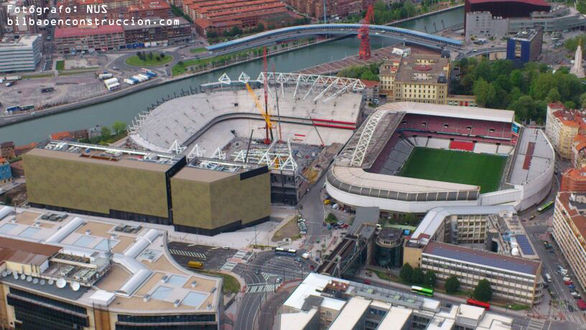 Photo presents the situation on May 7 with construction progressing promptly. Photo: NUS, bilbaoenconstruccion.com
Currently construction of San Mamés Barria is entering the final stage. The concrete stands are finished, roof construction is advancing well, while seats and facade cladding are being installed. Inside installations are laid and furnishings made in order to make the ground operable by the time 2013/14 season kicks off.
Then San Mamés has to be gone in order for the contractors to build fourth stand of the new arena, expected to take a big portion of the space currently occupied by the north stand and pitch of the existing stadium. Within a year that last stand will be ready for operation.