Austria: Klagenfurt stadium to be renovated by late 2013
source: kleinezeitung.at; author: michał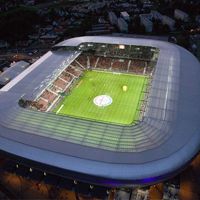 Dismantling the temporary upper stands would cost the city of Klagenfurt more than upgrading them to become a permanent structure. All works to improve Hypo Arena are to be done by the end of 2013, according to Kleine Zeitung.
No large events are to be held at Hypo Arena in 2013 as works go on increasing stability of the upper stands, which were built temporarily for Euro 2008 and proved unstable in the long run.
Currently roof is being changed (temporary extension removed), kiosks behind stands are getting built.
The plan to have Klagenfurt's stadium up and running again in 2014 was announced today by mayor Christian Scheider. He indicated a clear and simple cause, why the city prefers to keep increased capacity instead of downsizing the stadium as initially planned.
Although reduction in capacity would come cheaper at some €10 million, no money would be provided by central government. Thus the upgrade was selected, as €15.5 million are available for this purpose from Vienna.
Complete costs of improving the stadium after Euro 2008 should be within €30 million, which represents over 40% of how much the stadium actually cost in the first place.
Every year the venue costs some €2 million to maintain, while events held here bring €1 million. Together with naming rights this make Klagenfurt on the brink of breaking even.