Africa: 12 years since the tragic Ghanaian derby
source: IANS; author: michał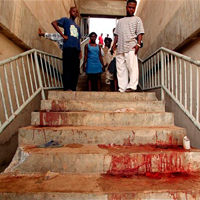 Yesterday saw ceremonies and prayers as twelve years passed since the fatal derby between Hearts of Oak and Asante Kotoko. It was the biggest tragedy of African football and one of the worst ever with 127 people dead. What changed?
Yesterday traditional prayers were held in Nima, a Muslim community in Accra, where most victims originated from.
On May 9, 2001, the Accra Sports Stadium was packed for another clash of domestic giants, Accra Hearts of Oak and Asante Kotoko from Kumasi. Despite leading 1:0, the away side lost 1:2 in late minutes of the game, resulting in brawls inside the stands.
To prevent further rioting (seats and bottles were being thrown), police officers fired gas grenades and rubber bullets into the stands. This caused panic and stampede, as crowd rushed towards the exits. Unfortunately, some gates were still closed (despite this happening on game end), causing the tragic crush that prevented people in the front from breathing and causing death from asphyxia. Altogether 127 people were killed and hundreds injured.
Five police officers were charged for their inconsiderate actions with 127 manslaughter charges, but prosecution didn't manage to make a convincing case, leading to the men being acquitted.
Changes in safety standards weren't fast to come, too. Using gas in crowded and congested areas was banned, but other standards haven't improved much. Ghana Football Association (GFA) employed a stadium insurance policy two years ago to provide cover to mitigate losses that might arise from such incidents and create a centre of attention to fans.