Turkey: Within an inch of a tragedy? Scandal in Gaziantep
source: gaziantephaberler.com, fanatik.com.tr, milliyet.com.tr, inte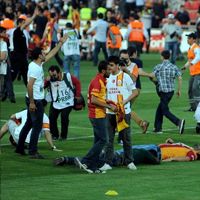 Thousands of people fled stands and invaded the pitch once they were reached by a cloud of gas used by security forces. Organisation and policing of Sunday's clash with Galatasaray proved insufficient. Official inquiry into dangerous incidents was launched.
For Galatasaray this was the last away trip of the season, because their fans won't be allowed inside Fenerbahçe's Şükrü Saracoglu Stadyumu for safety reasons. With 'Galata' having millions of declared fans across Turkey, they were sure to draw crowds even in Gaziantep, 1,100km road trip from Istanbul.
There's one more reason for increased interest. The Lions are marching for their 19th championship, especially important with both Galatasaray and Fenerbahçe holding the record of 18 at this moment. With this in mind it's hard to be surprised by the warm welcome Galatasaray players were given by their fans once they landed in Gaziantep on Saturday:
But the closer to the game itself, the more tense the situation was getting. Hours before the clash minor fights and provocations in the streets required police interventions. Then at the gates Galatasaray were losing patience as organizers couldn't cope with their number.
Worth mentioning, Gaziantepspor were aware of the huge interest of Galatasaray supporters and increased ticket prices several times (!) to a skyrocketing TL100 (€43 / $56). No wonder that some people were reportedly trying to enter ticketless, while others found on site that their tickets are counterfeit.
As a result, despite the away section (actually, fourth of the Kamil Ocak Stadium, behind northern goal) being packed, there were still hundreds of people in the streets outside, trying to get in. This was most probably why police or security guards (we weren't able to establish this yet) sprayed the pushing crowd to relieve stadium gates.
Another version published by some media outlets names a gas canister explosion as the reason, but whatever it was, a large cloud of tear gas moved inside the stadium, causing panic inside Galata's away section. People instantly invaded the pitch seeking relief and medical help, with many women and children in attendance. Some people had trouble breathing.
Organisers weren't prepared for such an event – only one ambulance came inside the stadium and then wasn't able to leave. Some of the stadium staff proved useless as they too fell victims of the gas. With chaos around, some were trying to wash their aching eyes with water, which only causes more pain in such cases.
In the end the game was played and Galatasaray secured a 1:0 win to march on almost sure of grabbing the championship. But dozens of their supporters required medical treatment.
Official inquiry into the incident was announced on Monday to establish who is responsible.