Swansea: Planning application submitted for Liberty Stadium expansion
source: swanseacity.net; author: michał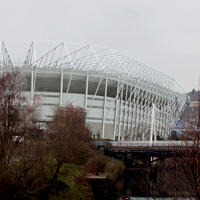 Just as promised, Welsh Premier League side Swansea City filed their planning application to increase capacity of their Liberty Stadium by some 11,000 seats within 5 years. And they presented very first renderring, too!
It was back in December, when Swansea announced they're going to submit the planning application in spring. Initially it was due around February or March, but in the end mid-April isn't bad, too.
Swansea City announced yesterday they made it and now the application needs to be evaluated by municipal officials. Until then, we have some details about the Liberty Stadium expansion scheme from the Swans.
Expansion is set to begin this summer with minor remodelling of the main stand's seating. This way an increase of 1,500 seats should be reached regardless of the planning application.
Then, should city authorities agree, south end will be expanded by 3,844 seats, followed by south-eastern corner and east stand. Lastly, north-eastern corner and north end will follow suit. In the end capacity should be around 33,000.
In total the expansion plan is divided to three phases (not counting main stand seat shuffle) that should be ready in 3 to 5 years. Reasoning behind the timespan is that Swansea City needs to constantly play here and lose as few seats as possible throughout the season. This way opening one section will give enough room to close another one and continue works.
Below is the first before/after rendering published by the club and a map with showing stands that are awaiting expansion. For larger version of the new rendering please check out our facebook account.