Serbia: National stadium outside of Belgrade?
source: Sportske.net; author: michał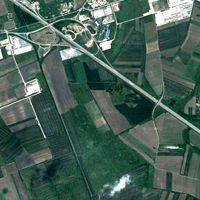 Sounds almost absurd, but with the city's stiff opposition to giving land for free, relocating to the outskirts may be the only viable option for Serbian FA (FSS). Or at least those are the hopes of Pećinci, a modest commune west of the capital.
Serbian Football Association (FFS) are hoping to build a new national stadium with their commercial partner. It's not a plan considering either Crvena Zvezda or Partizan's stadia, but a completely new scheme in another location.
The only thing in the way seems to be… Belgrade. The city is opposing the plan as it would see FSS getting large plot of land for free. The city set its conditions – if FSS want to build, they have to pay.
This is where Pećinci comes in. This small commune some 30km west of Belgrade has just offered FSS to settle on their land. There's plenty of it to go round and president Sava Čojčić assures the association would get a free plot in Šimanovci, a village half way between Belgrade and Pećinci, several kilometers from the metropolis.
The proposed location has its advantages. It's located along one of Serbia's major highways, relatively close to the international airport and the FSS headquarters.
But there's one issue. Will such a plan still be feasible for the private investor teamed up with FSS? This still needs to be established, but with Belgrade not giving anything for free, both sides may consider moving west.