Rotterdam: Mayor speaks of new stadium's importance
source: Rijnmond.nl; author: michał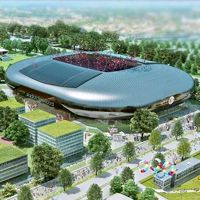 Talking to RTV Rijnmond, mayor of Rotterdam Ahmed Aboutaleb admitted the new 63,000-seat stadium isn't important only to Feyenoord, but to the whole city of Rotterdam as well.
According to mayor Ahmed Aboutaleb Feyenoord's plan to build a new home is very important not only for the club itself, but also to the whole city. Thus, taking the right course with the project is essential. Though the mayor seems enthusiastic and not opposing it, the planned 63,000-seater still has to gain council approval.
Currently the files submitted by Feyenoord last week need to be given a thorough examination. Because analysis presented by the club is almost 250 pages thick, we shouldn't hope for its evaluation too soon.
According to Aboutaleb the city council should decide whether to grant the plan permission this summer.