Rotterdam: European Commission may kill the new stadium?
source: telegraaf.nl; author: michał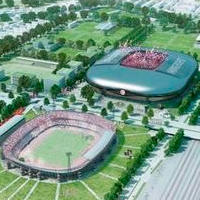 Construction due to cost up to €360 million may not even start. European law specialist warns that the European Commission may treat the city's support as prohibited state aid for Feyenoord. Report by De Telegraaf.
The new 63,000-seat stadium for Feyenoord may cost from €313 to 360 million. Even half the budget (€165 million) is to be covered by Rotterdam municipality guarantees. But since the stadium is built for one club only, who privately selected their contractors, is the city allowed to participate in such way?
Dr Flora Goudappel, specialist in European legislation, claims the European Commission may treat the partnership as prohibited state aid and thus a breach of the law. This interpretation is shared by euro-MP Dennis de Jong, who assures the Commission is very strict about this matter.
This wouldn't be the first case of stadium interest by the European Commission. Recently similar controversies arose in connection to Real's deal with Madrid, under which the city is thought to have lost a lot of money by selling land cheap and buying it back for a lot more. Also in Eindhoven, the city is thought to have injected funding to PSV by buying land under Philips Stadion, which cannot be used at all with the stadium standing there.