Poland: Concrete cracking inside Poznan stadium
source: Gazeta.pl; author: michał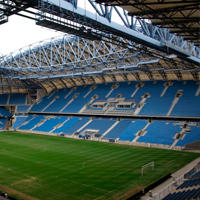 Disturbing cracks in the concrete structure of Euro 2012 host venue were found. Quite shockingly, municipal and football bodies attempted to hide the problem from the public. Architects blame contractors for not installing crucial supports. Part of the west stand was in danger of collapsing.
Gazeta Wyborcza informs today about very alarming cracks appearing on the concrete structure of Poznan Municipal Stadium's west stand. They're big enough to cause extra cautious policy of Lech Poznan, who no longer allow fans to take seats in first rows of the upper tier. Reportedly, this was the case already in March, but no reason was then given to fans.
Indeed, not only the club, but also the municipality have known about the problem for some time. However, not only did they keep it hidden from the public, no-one at the local construction supervision office was informed as well.
Paweł Lukaszewski, head supervisor in Poznan found out about the issue when approached by journalists. He first needed to contact the stadium for details before commenting. "You were right, there are some cracks. Apparently, an expertise has been done and repair plan is ready. I already aksed POSiR for a written document about it", says Łukaszewski.
POSiR, municipal company administrating sports venues, aren't commenting on the case yet. Company president Zbigniew Madoński is expected at the site today to view the cracks and is expected to give a statement later on.
Surprising arguments are given by stadium architects, Modern Construction Systems. Poznan-based company was informed about the problem when it appeared. They already viewed the site to find that main concrete beam of west stand's upper tier is indeed showing cracks.
Having taken a closer look, architects found that additional support they designed was not installed by the contractor. Hydrobudowa, who built the stadium in 2011, aren't there to comment – the company went bust last year.
"This additional pad was to prevent concrete from shrinking in low temperatures", said Wojciech Ryżyński, head of MCS.
Asked why the pads aren't there, he couldn't tell. "They were in the documentation, but aren't here. Probably contractors didn't install them", he says. A brief look around other stands showed that other beams have the extra protection, but Ryżyński fears that thorough examination of the structure may show other lacks.
Temporarily additional steel supports were placed underneath the stand to assure its stability and durability. Plan to install permanent ones is the expected resolution of the problem.
Below we present photo of the west stand currently and back when it was under construction, to show the beam in question (red).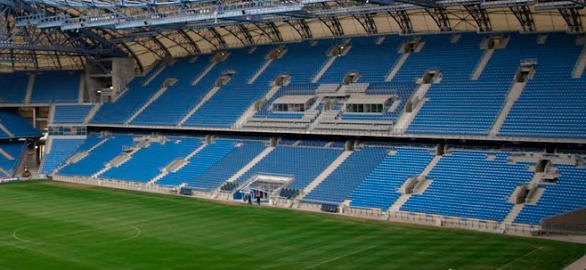 Photo: Carte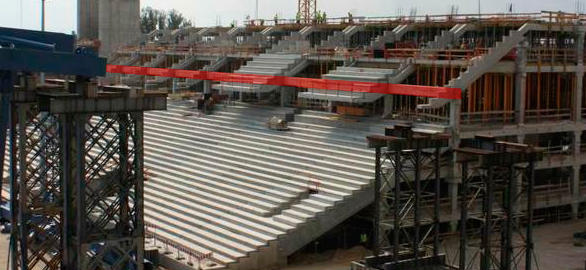 Photo: Budowa.Maroonpoint.com