New stadiums: Okayama and Kashiwa
source: StadiumDB.com; author: StadiumDB.com team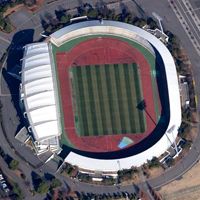 They're both able to hold 20,000 people, but have completely different histories. The one in Kashiwa was hated by fans from the start, while the one in Okayama is going through a revival since its redesign in 2003.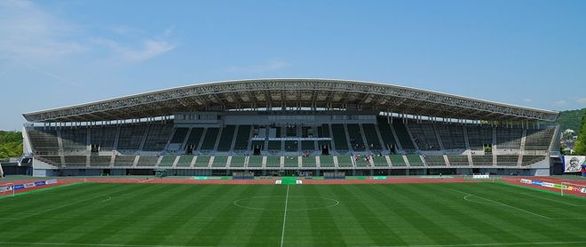 Located just North of the Centre of Okayama, the stadium is part of a large complex. Together with secondary athletic stadium, baseball stadium, pools, gymnasium and park it was built in 1957. However the history of football at the site didn't start until 1990s, when Vissel Kobe moved their home games here.
They started playing as hosts in 1993 and stayed until the twenty-first century. However, thanks to complex redevelopment of the stadium in 2001-2003, various other clubs use the stadium when their venues are not available. Constant use is provided by local Fagiano Okayama.
No wonder the stadium still plays host to football, as it was redesigned by one of the creators of famous Shinkasen train. Despite having a running track, steep stands provide decent sightlines and the steep main one with its roof makes a big impression. Seat number allows to meet all J.League criteria.
In 2010 Kanko bought naming rights to the stadium. Deal ends in 2015, with Worth estimated at ¥ 10 million per year.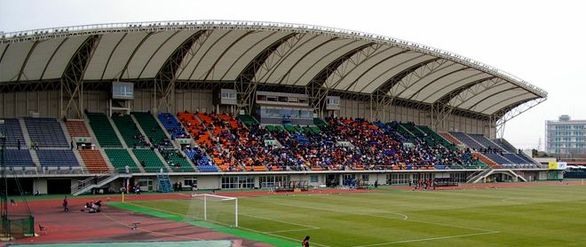 Plans to build a new stadium were drawn in 1992. City and prefecture authorities wanted the popular J.League team Reysol to relocate here. Fully covered stands, not common among stadia of this size in Japan, were to be among advantages of this arena, compared to smaller and older Hitachidai.
However, the stadium met with strong opposition from the very start. Fans were displaying banners about it being the worst possible place. They also emphasized, that getting to the ground in north-western parts of the city isn't easy – nearest train station is half an hour away on feet. Then comes the athletic layout, which led to the fans neither being able to see the game well, nor create proper atmosphere.
Thus, Kashiwa Reysol moved away from this public venue to their own Hitachidai in 2009, playing last J.League fixture here in 2008. Currently they only come here for friendly encounters, while local rugby side provides week-to-week use.