New stadiums: Bogota and Cali
source: StadiumDB.com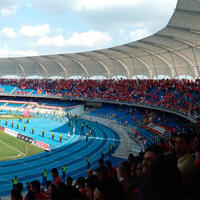 Both were opened while each city celebrated 400 years of existence. Each of them is still the most important football venue locally and both host great and electric derbies! Meet two cauldrons from Colombia!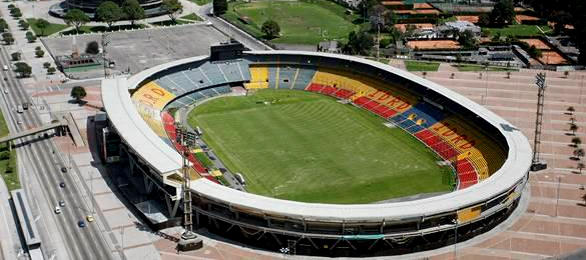 Plans of building a new stadium for Bogota were first drawn in 1934 as the city was preparing for its 400th anniversary celebrations and first ever Bolivarian Games.
It's the very beginning of its existence that saw both official and unofficial names introduced. Patronage of Nemesio Comacho was earned by the local tycoon when he donated land for the stadium, which stood in El Campín (or camping in English, due to the park existing here).
Construction works were interrupted by a flood, but delays reached only a week, little enough to open in August 1938. Initially its stands held only 10,000 people, but were expanded to 23,500 in 1948. Then, just three years later came complete redevelopment that brought capacity to 54,000. But none of those numbers could effectively cope with demand for top games, leading to overcrowding being present in each of these configurations.
Crowds of up to 60,000 people forced one more expansion in 1968. This was about the time when modernisation process began – in 1967 first floodlit game was played, in 1969 came the first scoreboard. Later on capacity started going down, especially between 1998-2001, when the ground was conversed into an all-seater, with some 47,000 seats. Last, but also significant decrease came in 2011, as FIFA's expectations upon U20 World Cup forced a drop to 36,343.
In its history it held numerous sporting events, with Juegos Bolivarianos and youth World Cup already mentioned. There were also Copa CONMEBOL, Copa America and Copa Libertadores final, among others. And, of course numerous games by two tenant clubs – Santa Fe and Millonarios, both of which consider the stadium their home since 1940s.
Apart from sport there were also quite a few concerts organised here, with James Brown coming first in 1973.
Construction of a new stadium in San Fernando district (thus the nickname Sanfernandino) became possible in 1930 thanks to poet Pascual Guerrero, later patron of the ground, who donated land for the investment.
Its opening took place in 1937, coinciding with Cali's 400-year anniversary. Football moved in around 1948, while in 1954 decision was made to expand to nearby land with swimming pools, gymnasiums, etc., creating one of the best sports complexes in all of South America.
Though football wasn't the primary sport, it soon started growing with two largest clubs of Cali, America and Deportivo, finding their home for decades at this very address.
Interestingly, fanatic supporters of both sides occupy the very same sections of the stadium (upper tier of the southern stand), contrary to worldwide custom that opposite ends are chosen at shared stadia. Of course during derby clashes the 'away' side gets the northern away section, almost identic to their regular location.
The stadium went through several major revamps, mainly ahead of large tournaments – before 1971 Pan American Games, 1994 Pacific Games or 2001 Copa America. But the most spectacular changes came for 2011 U20 World Cup. Three sides of the stadium received their very first roof, while the east one also got balconies for press representatives, later transformed into regular advertising space. Ironically, the stadium wasn't ready for the 2011 event, getting finished afterwards.