Netherlands: Should Amsterdam fear the new Feyenoord stadium?
source: AT5.nl; author: michał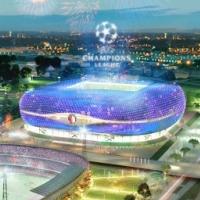 If the club succeeds and leaves De Kuip for good, it seems the stadium at biggest risk will be Amsterdam ArenA. The venue may lose its top stars to the bigger and more modern competition.
If you look at event calendar of Amsterdam ArenA nowadays, Ajax games don't even make up half of it. The stadium is Holland's largest, has a retractable roof and uses the great infrastructure of Amsterdam, both in terms of access and tourism.
But this doesn't mean that theoretically less attractive Rotterdam cannot compete successfully with the ArenA for largest events. If Feyenoord go forward with their vision of a 60,000+ stadium, they will steal the superiority in terms of stadium infrastructure from Amsterdam by far.
And with right pricing policy, they may steal some of the stars as well. Feyenoord never denied this was one of their aims. In fact they used the argument in the ongoing debate whether to save De Kuip or build anew.
Now concert organizers Mojo confirm they will give a thorough consideration to the newest and largest stadium planned in the country. The agency, who only this year contracted Muse, Robbie Williams and Roger Waters at Amsterdam ArenA, assure that with right rental fees many artists may indeed choose Rotterdam over Amsterdam in the future.
Initial renderings what they may be offered you may find below: