Montreal: 1,240 rips in Olympic Stadium roof, time to redesign it?
source: CBC.ca; author: michał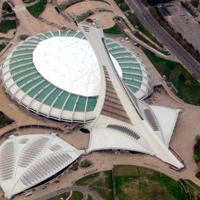 Each year more and more flaws are found at the Olympic Stadium in Montreal. Mayor agrees with his advisers that the roof needs to be thought through again. Perhaps a retractable structure will replace it.
Opened in 1978, but not finished until 1987, the Olympic Stadium in Montreal is in constant need of repairs. It even earned a more ironic version of its nickname – changed from 'The big O' to 'The Big Owe'.
Not without a reason as over the years various amendments have already doubled its initial cost. Most of the changes were related to roof flaws. It was initially designed as retractable, but had to be switched to permanent after constant problems.
But despite now being a solid fiberglass sheet, the roof is still a major concern. Only last year two inspections found a stunning number of 1,240 rips, tears and cracks, all replaced at a cost of some $307,000.
The roof's condition is deteriorating year after year, forcing authorities to search for new options. Studies of potential replacement options cost $1.4 million over the last two years.
Earlier this month, the advisory committee on the future of Montreal's Olympic Park called for the replacement of the roof.
Montreal Mayor Michael Applebaum reiterated that on Friday. "We need a replacement roof, and we're talking about a roof that is able to open in the summer time," Applebaum said.