Minnesota: Vikings Stadium final design to be presented on May 13
source: StarTribune.com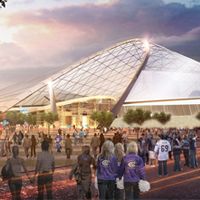 It was due in March, later postponed until April. but work on final design of the Vikings Stadium is still ongoing. Final deadline for official presentation is now May 13. New stadium is said to have an open feel to it.
When HKS Architects were selected to design the new stadium of Minnesota Vikings back in December, they won the contract with two impressive, but completely different visions of the venue.
One is actually a closed arena with ribbon-shaped roof, while the other has see-through cover and arch, being much more open.
Which was closer to the final one? This was due to be presented in late March, then in April and finally now presentation is set to take place on May 13.
So far we know that capacity should be around 65,000, with 7,500 premium seats and 150 skyboxes. Still not confirmed are possible retractable elements, like roof or walls, but Minnesota Sport Facilities Authority assures it will be an amazing stadium.
Lester Bagley, the Minnesota Vikings vice president for public affairs and stadium development, shares the feeling. "We're very excited where it's headed. It'll have lots of glass and light and a very open feel to it. And we're confident that it'll land well with state leaders, Vikings fans and everybody in Minnesota."
Groundbreaking is still expected to take place in October, even though revenues for the state's portion of construction financing are lagging well behind projections.