Manchester: United checking if roof isn't spoiling the atmosphere
source: manchestereveningnews.co.uk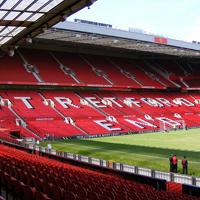 They already tried relocating away supporters to make their influence lower, but police blocked it. Now acoustics specialists are analyzing, what might improve the sound volume at Old Trafford – Manchester Evening News reports.
Old Trafford has been subject to criticism for its poor atmosphere for years now. The Theatre of Dreams may be England's largest league ground, but also boasts one of the poorest atmospheres a football game can provide.
On various occasions the conditions at Old Trafford where highlighted, perhaps most notably in 2008. Sir Alex Ferguson criticised fans for lack of support, receiving in reply the fans' side of the story – those singing and 'persistently standing' were facing even ejections from the ground.
Western Stretford End remains the core of United's vocal support, but recently fans were complaining that even if they make a lot of noise, it's not heard across the stadium. A Reds' source said: "There were supporters in the Stretford End who thought they had made a lot of noise only for friends in different parts of the ground to say they couldn't hear them."
The declinatory roof at Old Trafford is thought to cause the atmosphere being smothered and not spreading throughout Premier League's largest venue.
This is why already in January examination of noise distribution began with specially hired engineer checking it during MU – Liverpool clash. He is expected to return for another trial this season and produce a report indicating measures that may improve fans' situation.
United already tried to create a singing section and relocate away followings (to top tier of Sir Alex Ferguson Stand) to give them less power. But tests done in April 2012 didn't go too well – police wasn't convinced to the scheme. They highlighted Manchester City's 'Poznan' celebration – where fans turn their backs on the action and jump up and down – as a safety fear as it could cause the steep Sir Alex Ferguson Stand to 'flex'.
StadiumDB.com comment: Now, we're no acoustics experts, but we see more than just the roof standing in the way of fans creating decent atmosphere.
If you price out younger and more spontaneous crowd by constantly raising season ticket prices to skyrocketing levels, you're not getting too many passionate fans inside (with absolute respect to those, who can afford it, but don't necessarily feel like singing and jumping).
If you ban flag waving and persistent standing or, what's even worse, don't control the approach of your own stewards towards fans, you're not really in a position to expect positive changes in atmosphere.
And if after doing all that you just go and blame the roof, well, you hardly drew the right conclusions. Here are two images of fans at Stretford End. Photos are 30 years apart. Check how much has changed. If you see the difference, please contact Manchester United, because they clearly don't.