Majorca: Real fined for stadium overcrowding
source: mallorcainfos.com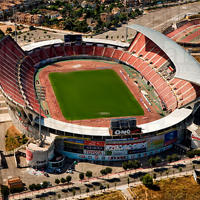 Computer analysis proved that host team allowed too many people inside, selling out beyond capacity. For compromising viewer comfort and safety Real Mallorca was given a €60,000 fine.
Real Mallorca played Deportivo La Coruna on March 31. Delcared capacity that day was a sell-out crowd of 23,000. However, the State Commission for Violence, Racism, Xenophobia and Intolerance at Sports Events ran a computer count, suspecting the actual number of fans may had been higher.
The count showed that in reality 24,092 people were allowed inside Iberostar Estadi, exceeding total capacity by 452 people.
For compromising safety and comfort of the public Real was fined, but the €60,000 penalty is under 10% of what Consejo Superior de Deportes (CSD) could have ordained. Maximum fine for this kind of misconduct is €650,000.