Madrid: Galatasaray fans to conquer another city?
source: StadiumDB.com; author: michał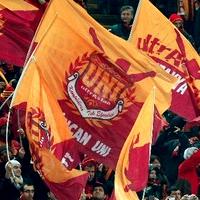 Some were saying Galatasaray may be followed by 10,000 people to Madrid. In late March it was already 15,000. Tomorrow even 25,000 Turkish fans are expected to invade Madrid. Special forces are prepared in the streets. How will it look inside Benrabeu?
Already in mid-March Turkish fans were thought to be in possession of some 15,000 tickets for tomorrow's Real – Galatasaray clash. At least a third of these tickets were bought for sections other than the away side's, through online bidding platforms and other black market means.
Today it's expected that 20,000-22,000 may descend on Bernabeu for the Champions League fixture, making every fourth fan a Turk. Police forces deployed in the city, with mounted units to overlook crowd behavior, are said to prepare for up to 25,000 people. If this figure proves true, Galatasaray will enjoy the largest away following of all foreign clubs in Spain.
Just to compare, UEFA regulations demand that away sides get at least 5% of the capacity, which in Madrid means over 4,000 people. This is how many Manchester United supporters came. Borussia Dortmund, however, was thought to have between 8,000 and 10,000 supporting them recently in Madrid. These number don't come close to what is expected on April 3.
Some commentators in Spain argue that Real may fight the wave of black-market tickets with precise controls at the turnstiles, but with the number of Turks so high, that may prove insufficient and even more – lead to huge tensions and violence. Some of the Galatasaray fans are thought to have spent multiple the open-sale prices on their tickets and are determined to get inside. It seems the safest wave is to let them support the team at Bernabeu.
For Galatasaray supporters that kind of invasion is nothing new, though. Their last rival, Schalke, also didn't manage to stop the influx of Turkish fans into Veltins Arena. In the end about 10,000 Turkish people got tickets, while thousands more were left empty-handed, a few even trying to dig holes under the perimeter fencing.
But the largest invasion of Galatasaray fans we know of was the one in Berlin, back in 2008. Giant Olympiastadion saw over 62,000 spectators for the UEFA Cup clash against Hertha, but the home side had supposedly barely over 20,000 fans inside, with all the rest being Turkish fans.
Of course the numbers for Galatasaray European games aren't those of fans actually travelling from Istanbul, but people living in large Turkish diasporas all over Europe, with Germany in particular. That in turn leads to some Turks claiming the atmosphere during such invasions is far from one generated in Turkey, as most attendees are people who don't regularly go to games.