Ireland: Home fans helping Austrians in need
source: fansembassy.org; author: michał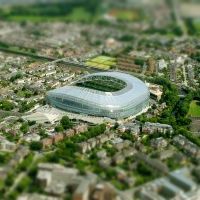 A young Austrian couple travelled for the 2014 World Cup qualifier to Dublin and got mugged one day before the game. They lost money, papers and Aviva Stadium tickets. But one phone call away they found not only help, but a piece of adventure!
Valeria and Stefan are a couple, who decided to visit Dublin in March as their first official away destination in the 2014 World Cup campaign for Austria. It was no accident, as they've seen Irish fans during the Polish part of Euro 2012 and were amazed by the enthusiasm of 'boys in green'.
But before they were able to check out matchday atmosphere in Dublin, they got mugged. Valeria's wallet was stolen, along with cash, id and tickets for the game. The couple approached their Fan Embassy, consisting of three active supporters.
Embassy members got in touch with 'You Boys in Green' Irish fans association and together they provided something more than just help for the young visitors.
On matchday supporters of Austria and Ireland held a friendly game among themselves, collecting money for the mugged Austrians. Valeria and Stefan got their new tickets and cash to enjoy their stay in Dublin. Even more, they received overwhelming hospitality and media attention, having their 5 minutes in Irish media.
This simple story isn't something we publish every day, but good examples deserve to be shared and surely this shows the very best side of how Fans Embassies work and how people not knowing one another can give some genuine support not only to their favorite football side!