Indonesia: Workers caused Games postponement!
source: thestar.com.my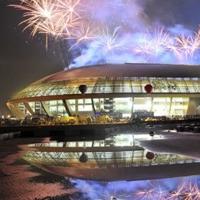 Organisers of Islamic Solidarity Games announced today, that the tournament will be held in October instead of June. The reason is subcontractors blocking the venue for unpaid contracts.
Stadion Utama Riau has been officially open since September last year, but in practice it's not available for sports today. Companies who built it set up a blockade over unpaid charges.
They demand IDR 400 billion (some $42 million) of contracted wages to be paid. Until they receive their full amounts, no tournament can be held at the 40,000-seater.
The protest caused organizers of this year's largest event, Islamic Solidarity Games, to postpone their tournament. Although many of the 5,000 athletes already made their arrangements to get to Pekanbaru in June, they are now expected to compete in October.
"They refuse to open the stadium for the games until they are paid in full," said organising committee secretary Timbul Thomas Lubis, adding that funds had been prepared so subcontractors should receive their payment soon.