Germany: Construction tender for new stadium in Zwickau begins tomorrow
source: wochenspiegel-sachsen.de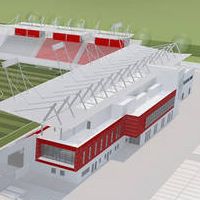 Companies from all over Europe will be able to take part in open tender. Their aim will be to open a new 10,000-capacity stadium ahead of 2015/16 season and keep it within a tight budget. Wochenspiegel Sachsen report.
On Tuesday construction tender for the future stadium of FSV Zwickau begins. Organisers hope to receive interest from some 15 companies, of whom final 5 should be shortlisted until February 2014.
Then each would be given access to concept documentation, which might be altered as long as long as all guidelines and budget are met. After evaluation the general contractor should be selected before Summer 2014, receiving 1 year to build the stadium.
To make sure that the tight budget of €18 million ($23.5m) is viable, local architecture practice ARC already created a very detailed model, featuring all needs and guidelines. The stadium will have three stands based on land slope, while the main one is to accommodate most of the infrastructure. With all seats covered the ground may be expanded easily from 10,000 with corner sections.