Genoa: Sampdoria presented their new stadium idea
source: sampdoria.it / ANSA / forzaitalianfootball.com; author: michał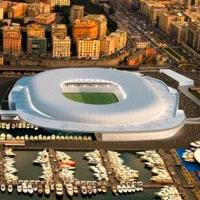 A few years back the club suggested building a new venue in the outskirts of Genoa. Now it's quite the opposite – they want it in the heart of the city. Will authorities support the 30,000-capacity stadium? First talks were held on Friday.
In early 2007 Sampdoria announced their plan of leaving Stadio Luigi Ferraris. The plan was to build a new 32,000-seat stadium in the outskirts of Genoa, but with decent transport connection. Back then it was considered a potential option for Euro 2012, which in the end wasn't granted to Italy.
We're almost a year after the tournament ended and Sampdoria presents a new approach. Now they plan a 30,000-capacity stadium to be located just meters away from the Ligurian Sea, neighbouring exposition centre Fiera di Genova. The football arena would replace current indoor hall and might prove to bring commercial benefits to both the club and the expo.
But will authorities give it the green light? First meeting took place on Friday, when the early drawings were shown to members of three municipal commissions. Lively meeting took over 4 hours and was also attended by engineers explaining the technical part of what might be feasible to built. If authorities agree about the feasibility, new stadium might be ready as early as 2016.